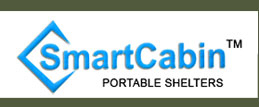 Trust Us

In order to construct dependable, safe, strong and cost-efficient Insulated Shelter with true value for money and optimal over all qualities. We put in a great deal of idea and planning in building the structure. Incorporating innovative idea into structure should not be a concern and with Smartcabin the client can remain content. From fabricating a small cabins to a multi-storey buildings, we can take care of all prefab building requirements and with the reasonable amount of money, commitment to making it possible for maintaining a leadership position in the markets.

Product Portfolio

We provide a custom-made range of Insulated Shelter and cabins in specific size, design and other structural configurations. Our entire range is highly acclaimed owing to its elegant design, strong structure, light weight and less maintenance cost. Becoming a manufacturer & supplier that can respond to your demands. We with the proven expertise in providing the highest-quality permanent and temporary accommodation are used to install on-time with assurance of strong walls, ceilings and bottom panels. The whole gamut includes:

| | |
| --- | --- |
| Portable Cabins | Porta Cabin |
| Mobile Retail Cabin | Prefabricated Structures |
| Prefab Houses | Portable Container |
| Toll Booth Cabins | Portable Storage Container |
| Portable Office | Security Cabins |
| Portable Toilet | Portable Office Containers |
| PUF Panels | Bunk House |
| Container Shower Rooms | Prefab Cabins |
| AIRE Prefab | Solar Submersible Pumps |
| Biomass Stove | Accommodation Cabins |
| Modular Data Centre | Portable shelters |
| Kiosk | Pre Engineered Buildings |
| Warehouse | |
Application Areas
Since the inception of our company, we have been constructing best quality Insulated Shelter that is impermeable to radiation frequency and impervious to water, besides being suitable in rapid changeability in atmospheric condition of location, therefore used in varied application areas:
Office
Residence
Store house

Security cabins
Labour camp accommodations for construction companies
Building of schools and hospitals
Villas
Prayer rooms
Conference hall
Dinning halls, etc.
Quality Assurance

Quality is a vital element controlled and assured at all stages that are put under full-scale inspection. We have implemented standard quality-management policy at every phase of the construction and designing process. The constituting materials, which we incorporate in the construction process, are sourced from a number of our-long associated vendors to make sure the improved design of Insulated Shelter. All building and design processes are carried out systematically and meticulously, right from pick of all constituents to final installation.

Our team of dexterous architect and civil engineers ensure that they closely inspect and validate the structure of the entire range and detect any flaw in design so that the range stands flawless in terms of over all qualities. Our quality control system matches with the international architecture guidelines. Following are the crucial parameters, which we have into account during the quality validation process.

Size
Design
Durability
Finish.
Infrastructure

To fulfill the Insulated Shelter requirements of clients, we have built up a state-of-art architecture unit and computerised draughting facility at our premises. Our modern designing arrangement with all sophisticated applications like CAD and other Software applications that allow us to build up Insulated Shelter, BTS Shelter, Mobile Cabin, Cold Storage,etc. in any specific designs and specifications. It is also provided with high-technology machinery and other require equipment helping us in accomplishing all construction works successfully within a time-bound manner. Some of the machines installed in house are:

Cutting machines
Polishing machines
Finishing machines
The proper application and maintenance of all tools and machinery receive a great amount of attention in order to ensure the operational and functional optimum. All machines are serviced from time to time in order to improve functionality and overcome complexity of design and construction processes.