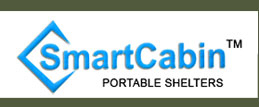 Designing

There are several design choices provided by Smartcabin Portable Shelters, which are both eco-friendly and practical. They are appropriate for far-off the grid sites, rural and urban settings, and challenging territory. Plans are accessible in one, two, three and four bedroom blueprints. The one bedroom plans can be availed for Working Men, Minors, Working Women, Hotel & Motel Pods and Student Accommodation for utilize as temporary accommodation or Granny Flats. All one, two, three, & four bedroom designs are provided as single level lodgings but can also be shaped as stacked apartments of up to 5 levels high.

Whatsoever your scrupulous necessities are, we can present hard to believe adaptability with our range of Modular Housing Solutions.

Planning

Smartcabin Portable Shelters presents an unbelievable and broad Health & Safety peace of mind pack up while installing new fabricated structures on our customer's sites. We will be present at a Health & Safety conference with your Health & Safety officer for providing them with the every information about the project including:

A complete and project explicit method statement unfolding the technique of installation.
A project precise risk assessment statement which recognizes the risks and ascertain actions.
An arranged and thorough programme of works.
A xerox of the details of insurance.
A xerox of the Health & Safety policy.
A single point of get in touch with for the whole project.
A wholly supervised team of seasoned installation operatives.

We promise to install the structures safely and competently and in compliance with all of the existing Health & Safety necessities.