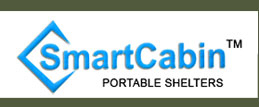 Modular Data Center
Product Code : Modular Porta Cabin
Modular Data Centers
:-
A standard knowledge centre system may be a moveable methodology of enhancing, distributing and increasing capability and work edges out of an information centre. A possible various to the standard knowledge centre, a standard knowledge centre has a plus that it are often placed anyplace wherever knowledge capability is needed.
Modular knowledge centre systems comprise of purpose-engineered modules and parts to alter climbable knowledge centre capability with multiple power and cooling choices. Modules are often shipped and delivered anyplace within the world to be so as to be extra, integrated or retrofitted into the customer's existing knowledge centre blueprint, or combined into a special system of modules. standard knowledge centres include standardized parts, that makes them easier to make and cheaper to construct.
Modular knowledge centres are available 2 sorts of variants. The additional common kind, cited as pack knowledge centres or moveable standard knowledge centres, work knowledge centre instrumentality (servers, storage and networking equipment) into a regular shipping instrumentality, that is then transported to a any location. pack knowledge centres generally return fitted and equipped with their own cooling systems.
There ar many disagreements with regard of use of prefab standard knowledge centres, however with money problems ar at the core, several suppliers do argue that these knowledge centres ar cheaper to shop for and cheaper to operate!
Challenges
You will got to straightaway deploy an influence offer and cooling infrastructure for your knowledge centre that ought to be straightforward, reliable and additionally value effective. With the limitation on your existing physical area, the time and value of construction becomes prohibitory. As your future growth unsure, an answer with alittle footprint is right for starting.

Solutions
Standardized, pre-assembled and integrated knowledge centre facility power offer and cooling modules ar a minimum of hr quicker to deploy and value up to half-hour but ancient knowledge centre infrastructure. These ar offered in multiple power and cooling capacities which can prove ideal for your co-location, enterprise and cloud applications.

Value Proposition
Quickly add cooling and power capability;
Dedicate power and cooling to the IT space alone, and not the complete building;
Perform and deploy as per prediction;
Leverage utilization of unused area to avoid delays and cut construction prices;
permits facilities to vary into the right-size as their demand fluctuates;
simply move power and cooling modules to new locations if your business relocates;
fancy bigger internal control - manufacturer Unit vs field assembly.