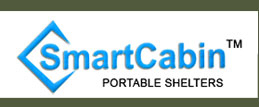 Portable Coffe Shop Cabins
Product Code : coffee-shop Modular
Owing to our rich experience and vast knowledge of this domain, we have been able to offer optimum quality Portable Coffee Shop Cabins to our valuable customers. For the purpose of designing the offered range, our designers make use of quality assured materials and latest machinery. Owing to their attractive interior, distinctive external finishing, excellent ventilation and easy maintenance, these Portable Coffee Shop Cabins are highly demanded in the market.

Features:

Easy to erect as it is light in weight

Excellent cooling systems

Weather-proof construction
Creative modular solutions designed specifically for the needs of the store , have been developed and produced by Smartec over the years. The stores made ??modular, are equipped with the most varied types of accessories and finishes . Stained fixed, sliding doors single and double doors that open to pistons, removable footrests and special lighting are just some of the amenities possible. The interesting interior configurations make it suitable to meet the operational and aesthetic behind the customer's use of premium finishes from the point of view of quality. Parquet, ceilings, smooth walls colorful and more, make environments aesthetically pleasing and made ??more responsive to 'end use. External finishing of plasterboard and other materials specifically identified, make the units for sale Smartec pleasing and functional. In addition, the technical rooms intended for local cooling, local service for copiers, storage and other services round off the features of this type of modules.