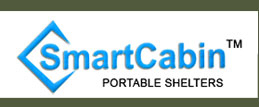 Portable Containers
Portable Containers

We take enormous pride to commence ourselves as a renowned manufacturer and supplier of remarkable range of Portable Containers. These containers are used in remote & isolated sites as a living modules, office units, recreation rooms kitchen units, mess units, toilets, and shower unit. Made using premium grade of materials and modern technology at our state of the art machining facility, our Portable Containers are offered in various sizes and designs to opt from. We adhere to the parameters of the national and international quality standards to provide the clients with utmost satisfaction in terms of quality.
Product Features:
Easy installation
Low maintenance
Leak proof finish
Dust proof
Highest structural stability
Product Specifications:

Portable Containers Roof: EPS, PU, rock wool sandwich panel
Portable Containers Wall: EPS, PU, rock wool sandwich panel
Roof panel: Galvanized cold-formed steel roof frame
Portable Containers Size: 20feet, 40feet approx.
Storage Containers Design: Customized
Storage Containers Color: Customized
Storage Containers Material: Steel
Storage Containers Condition: New
Storage Containers Capactiy : Large
Portable Container Utilities:

Farm House
Guest House
Site Offices
Store House
Temporary Rooms

Portable Container Benefits:

In compliance to "Kuccha Construction", can be installed in construction prohibited area
Precision engineered for hassle-free & prompt installation and commissioning
Time-efficient & tidy as compared to civil construction
Outstanding weight to strength ratio
Rigid & tested mechanical properties
Requires less maintenance
Uniform dimensions of panel
Easy to fit & dismantle
Even inner & outer finish

Concerns:
Appears as an expensive alternative to civil construction in the beginning but proves to be an economical solution in the long run. It is easy to carry & transport, and can be quickly fixed anywhere.

Use:
Carport, Hotel, House, Kiosk, Booth, Office, Sentry Box, Guard House, Shop, Toilet, Villa, Warehouse, Workshop, Plant