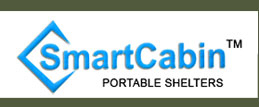 Steel Porta Cabin
Smartcabin Portable Shelters offer Porta Cabins that are equipped with requisite amenities and have a robust construction. Our qualitative range of Smart Cabin Site Office/ Bathroom/ Shower has wide usage in exhibitions, construction sited, fairs and related areas. The offered movable restrooms are fitted with reliable & stylish electrical and sanitary fittings to provide a comfortable ambiance. These cabins are easy to fix and ready to use for emergency requirements. Our Porta Cabins are easy to transport and provide a cost-effective alternative to fixed cabins.

Product Features:
Superior design
Easy installation
Negligible maintenance
Dust & weather proof
Durable paint coating
Porta Cabins Specifications:
Shell: It is fabricated by using premium-grade steel duly welded to form base frame, self draining roof, peripheral structure, windows and entry door as per the specifications and drawing approved by the client. All the eight corners of the shell are ideally strengthened to assist in transportation, placing and lifting.

Base Frame: Prime structural element is constructed by using ISMB and a rectangular hollow section is designed to form cross members.

Side and End Walls: High-strength pressed sections of appropriate pillars/profiles and utilized to make the side and end frame. Corrugated MS sheets are used to create the side wall, whereas the interior walls are made up of pre laminated boards. Steel sheets used are properly treated to enhance their resistance to corrosion. Installed panels are vertically corrugated. Appropriate strength to weight ratio is attained by welding sheets to the top, base and side structure. Gaps created at edge, seam and bottom of the structures are properly sealed to prevent the entrance of moisture.

Flooring Systems: Cement fiber board is fixed on the bottom by self tapping screws. PVC mat is fixed on the board.

Roof: Pitch roof,capable of self draining, is constructed from M. S. sheet and adequate roof bows are also furnished. Roof is designed in a manner to assist in the draining of rain water. Interior paneling is finished by pre laminated MDF board having competent insulation.

Paints: Red oxide is used for painting bulk house and the final two coats are applied of chlorinated rubber.

Insulation: Proper arrangements are done for the insulation of roof and walls.

Inner Paneling: Modern architectural methods are implemented to design the interior as a piece of architectural excellence. PVC tapes are used to smoothly and neatly finish the horizontal and vertical corners. For the paneling of roof and side walls, high quality pre laminated MDF board is used.

Main Entry Door: Ideal size of the door is 6' height x 3' width, which can be customized according to need. The door with outside opening is made of the same material as of the wall panels. Steel construction in double skin along with 40 mm thick honeycomb insulation is used to furnish the door. Locking arrangement includes separate handles on both sides of the door. Main door is fitted with Dorset Mortise and properly insulated.

Aluminum Windows: These sliding type windows are powder coated and made of aluminum section. Clear vision glasses are fitted as per the drawings and specifications.

Electrical System: Bunk house is completely furnished with electrical wiring having compatibility of 250 volt, 50 hertz single phase AC supply of power. Wiring is properly concealed to assure safety and clean interior. Bulk head and tube light are provided and copper cables are used to configure lighting circuits. 3/1.9 cable is used for lighting circuits. ISI mark insulated copper wires are concealed in PVC conduits which is attached to a compact distribution board having MCB protection and a separation from the main supply of power.